---
The Bayern View: RedRobbery
For some, this would be the match of the season. For us Bayern fans, it's the match of the decade – a once-in-a-lifetime chance to win the Champions League on home turf. This isn't just a chance to turn an otherwise weird and ultimately unsuccessful campaign into an unforgettable one. It is an opportunity to make history, to make our fifth European Cup win the most special yet.
The Bundesliga title was lost to an utterly dominant Borussia Dortmund, who also beat us 5-2 in last week's cup final. That game will have hurt our players, but may have given coach Jupp Heynckes the chance to spot mistakes before it's too late for the match.
Whether the final can be seen as home match is debatable (UEFA have kept the majority of tickets for themselves and their sponsors) but Bayern have won every single Champions League match at Allianz Arena this season. We beat all three opponents in the so-called 'group of death' (Man City, Napoli and Villarreal), then went on to slaughter Basel 7-0, eliminate Marseille with a 2-0 win and, best of all, defeat Real Madrid with a last-minute goal.
Unfortunately, we've been punished by UEFA's heartless disciplinary rules: three regulars will miss the match through suspension. Centre back Holger Badstuber, the focal point of our defense, left-back David Alaba and robust midfielder Luiz Gustavo are all huge losses.
Diego Contento could fill in at left back, whilst defensive midfielder Anatoliy Tymoshchuk, more often than not a liability at centre back, is likely to partner Jerome Boateng. The classy Toni Kroos will play alongside Bastian Schweinsteiger centrally, with Thomas Müller drafted in to fill the attacking midfield role. His off-the-ball movement is excellent but he lacks the outstanding control Kroos provides in that position..
All in all, my feelings are mixed ahead of Chelsea's visit. Badstuber, Alaba and Gustavo will be big losses and our last performance was horrid. But the desire to make this dream come true is hopefully strong enough to compensate for our shortcomings. Here's hoping that the biggest match of our lives will be won!
Prediction: since the thought of keeping a clean sheet with Anatoliy Tymoshchuk as centre back sounds absurd, I'll go with Bayern 2-1 Chelsea. You can back Bayern to score 2 goals at 3.60.
Predicted lineup: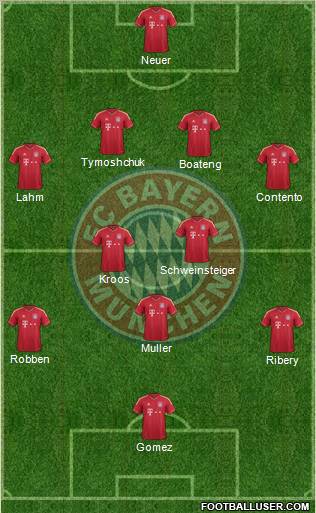 The Chelsea view: Ali Maxwell
Amidst the optimism of Andre Villas-Boas' appointment last summer, there were a few of us Blues who found ourselves quietly confident of a successful European campaign this season. After all, AVB was fresh from winning the Europa League with Porto and was about to about to revitalise a number 9 who had, up until that point, looked like a phone with a run-down battery.
Fast-forward 10 months and we're there! We're Champions League finalists against all odds, logic and rationality. Except instead of AVB, we've got RDM. Instead of a fully rejuvenated Torres, we have a wheeled-out-for-the-big-games Drogba. And instead of a fluid, pressing 4-3-3, we have whatever Robbie thinks will get the job done. So far in this year's Champions League he's been right more often than not.
While Chelsea hobbled to the Premier League finish line like an unfit marathon runner, there is a good feeling around the club that had been absent for almost 2 years. Embarrassing Spurs at Wembley was the amuse-bouche, the FA Cup final victory against our old friends Liverpool an admittedly delicious apéritif, but the Blues' successes against Napoli, Benfica and Barcelona were the real meat and potatoes of our campaign.
Some sizeable obstacles have been hurdled: Napoli's Three Tenors, intimidating foreign stadia, injuries, red cards and Jose Bosingwa's scarecrow defensive technique. Now it is Bayern Munich who stand in the way of Roman Abramovich's expensively-assembled squad.
Everyone knows by now that both sides are missing a whole host of keys players, but it will still be a fascinating - if cagey - final. Terry, Ivanovic, Ramires and Meireles are big losses, but Bayern are equally constrained.
Cahill and Luiz look like they have recovered enough to start at the Allianz Arena on Saturday, so 10 of Chelsea's starting XI pick themselves. The 11th spot is very hard to predict, as it all depends on Di Matteo's gameplan. Whoever does start for us, this is a team that came back from 3-1 down on aggregate against bloggers' belles Napoli, and somehow triumphed at the Camp Nou despite being 12 yards and Leo Messi away from being 3-2 and one man down. I won't be the one to jinx them, but maybe. Just maybe...
Prediction: a 2-2 draw, with Chelsea snatching it on penalties. A 2-2 draw after 90 minutes is priced at 18.00.

Predicted lineup: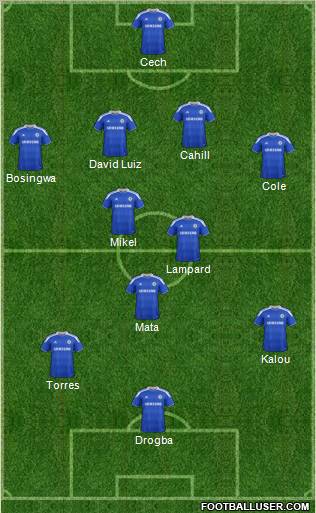 ---