---
It brought shock and disbelief around an entire country, but France has quickly had to move on from the disappointment of losing the final of Euro 2016 to Portugal at the start of July.
Tragic events in Nice brought the nation and the world out of the football bubble, but football quite often provides an escape, a chance to divert the tough challenges the world faces and to get lost in the beautiful game. In France, the Under-19 squad has given the country a cause to believe in and a glimpse into a very bright footballing future.
On Sunday evening, Ludovic Batelli's young squad capped off an amazing tournament by beating Italy 4-0 in Sinsheim, Germany. A superb achievement after they lost the opening game against England 2-1.
"It's an extraordinary moment, but I want to take a moment to think of Paolo [Italy's coach]," said Batelli. "It's your worst nightmare to have a performance like that in a match of this magnitude. I want to congratulate my team and offer commiserations to Italy."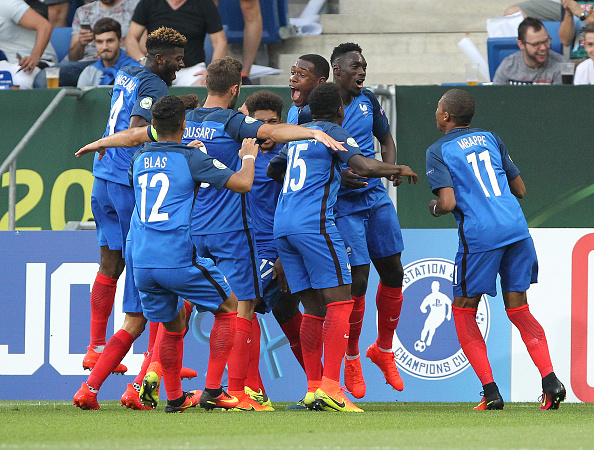 After that shaky start, France fired into action with undoubtedly the best attack in the tournament, but their success was built on a well-organised, disciplined defence.
"There were three key points," continued Batelli. "Play as quickly as we could on the break; use the wings – which is how our first two goals came, so that worked perfectly; and defend well, win the second ball. Our back five had to close space and close the gaps – and Italy couldn't deal with that."
Jean-Kevin Augustin - more on him later - finished as the tournament's top scorer with a record equalling six goals, but the player that caught the imagination most is AS Monaco's Kylian Mbappe.
After recovering to reach the semi-finals against Portugal, revenge was on French minds and it was Mbappe who served it cold and with style.
Égalisation des Bleuets à la 10' ! But de Ludovic Blas sur un travail magnifique de Kylian Mbappe. #foot21 #EuroU19 pic.twitter.com/EwAOtYrH3P

— L'ÉQUIPE 21 (@lequipe21) July 21, 2016
The French went a goal down early, it was the Monaco teenager that set up the equaliser, removing any feelings of Portuguese déja vu, then he would score twice in the second half to seal the place in the final.
"I've been lucky to be well supported by my team-mates. I've scored a few goals but I work for the team; it's more the efforts of the team than any individual which counts."
Previously linked with a move to Liverpool, Mbappe arrived on the scene last season 18 days before his 17th birthday, playing for two minutes in 1-1 home draw against Caen. It would be just eight days later that he would make an appearance against Tottenham Hotspur at White Hart Lane, setting up a consolation goal for Stephan El-Shaarawy.
He actually only started twice for Monaco last season, and scored just once - against Troyes - but he showed enough in his game to suggest that there was great reason to get excited.
Mbappe looks taller than his 5 foot 8-inch frame. He stands tall, he has a strong upper-body, but is tricky, strong and wonderfully adapt at changing direction quickly and with devastating effect.
En pleine forme Mbappe aujourd'hui ! #foot21 #EuroU19 pic.twitter.com/Ku9ep8mttD

— L'ÉQUIPE 21 (@lequipe21) July 21, 2016
Catching the eye as one of the players of the tournament in Germany this summer will put a lot of clubs on notice. There is still a lot of growing for the young winger to do, but when you are still a teenager and show the ability to play all over the front-line, either as a winger or centre-forward, you are going to attract attention.
Cette loooongue touche qui finit en passe décisive pour le troisième but français. Doublé de Kylian Mbappe ! #foot21 pic.twitter.com/DzSPyGO8ZF

— L'ÉQUIPE 21 (@lequipe21) July 21, 2016
With Radamel Falcao back at the Stade Louis II and expectations that the club can qualify for the Champions League this campaign, the hope now will be that Mbappe can continue his development in the principality and become a star in the first-team, just as he has for Les Bleuets.
His partner in crime this summer has been Paris Saint-Germain striker, Jean-Kevin Augustin. He may have only made 14 appearances for the champions last season, but after excelling at the tournament – including a hat-trick against the Netherlands – he stock has risen once again.
Augustin has the physique of a player five years his senior, he adds pace and dribbling ability with the normal instincts around the box you would associate with a No.9. At this stage of the summer, PSG only have one other recognised striker – Edinson Cavani – so there is a great chance for the 19-year-old to step up and become a major player for the capital club.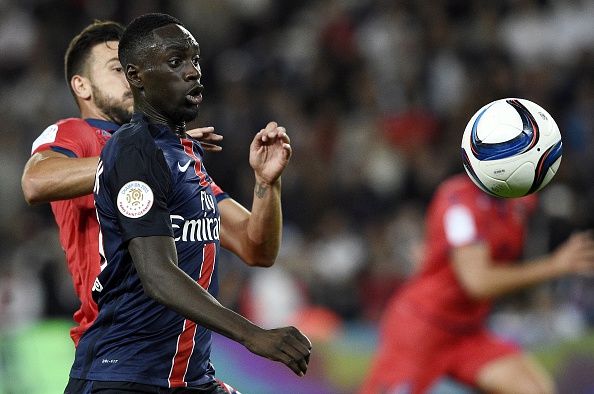 Unai Emery is likely to add more names before the window closes, but Augustin will still have a role to play. Scouts will have written down his name, but don't expect to pry him away from the Parisians just yet.
Ludovic Blas, Clément Michelin, Issa Diop and captain Lucas Tousart are just some of the other names that impressed this summer. However, you have to proceed with caution. The last time France won this tournament was in 2010 and former Chelsea man, Gael Kakuta, was named player of the tournament and his career didn't quite follow the expected plan. 
There is a sense of excitement surrounding these young champions, and with Mbappe the jewel in the crown, the country will be watching closely, hoping they can go on to replicate that success with the senior team in years to come.
---