---
What Did People Expect? It's Sam Allardyce
And so a nation watched and waited to see if a squad full of the same old faces managed by a man whose teams they've all seen play a certain way for years would magically perform in a different manner. It didn't happen. At least until the 95th minute.
England's football authorities have replaced the basic, paint-by-numbers football of Roy Hodgson with the basic, paint-by-numbers football of Sam Allardyce, but by doing so all they want is for Allardyce's way to be more effective.
They want it to force more victories by playing the percentages, and for Allardyce's slightly more modern approach to pay dividends.
And, like here, it might do eventually. It is an approach which has got him this far, after all. But the questions over whether or not that is enough should be silenced.
Football's tendency to blow everything out of proportion is never more evident than it is with the England team, and much of the criticism of England's first half smelled slightly of jealousy.
England don't have Pep Guardiola, they have Allardyce. So what did people expect?
It'll be this, then slightly better versions of this until that proves decent enough to get to the World Cup, which it will do.
Weren't you paying attention to the Hodgson era?
Wayne Rooney's Drifting Leaves England With A Pace Problem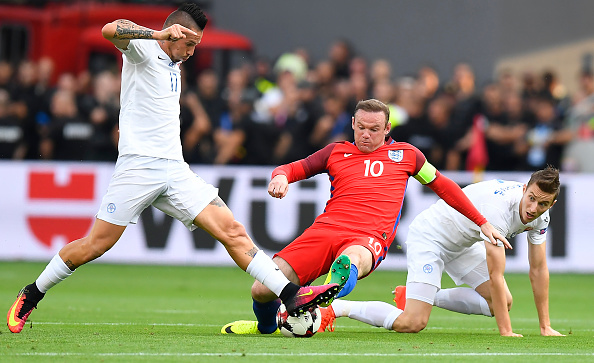 Having said all of that, the fact that Allardyce stationed Wayne Rooney deeper than expected in that first half was something of a surprise, and it created a problem which wasn't supposed to exist any more as Allardyce sought to learn from Hodgson's many mistakes.
The new manager, remember, stated that Rooney would play where he does for Manchester United in his England side – i.e. in a conventional No. 10 role – but that wasn't the case in the first half, and because he was dropping so deep it was creating several problems throughout the side.
Most notable was the fact that John Stones wasn't able to bring the ball out of defence in the manner that he has been doing for Manchester City this season, because every time he thought about it he looked up and saw the largely redundant Eric Dier stood where he wanted to go.
In addition, because Rooney and Dier were so deep that left the third midfielder, Jordan Henderson, isolated and needing to play riskier passes to find teammates – something that we all know he's not great at doing.
But perhaps most alarming was the fact that Rooney's insistence on taking three, four or five touches slowed England down regularly, and in a side where the only real pace was coming from Raheem Sterling that allowed Slovakia the time to get more and more men behind the ball.
It was no surprise that England looked a lot more dangerous with Dele Alli on – although admittedly against 10 men - and he certainly helped in the build-up to Adam Lallana's last gasp winner.
Angry Man Martin Skrtel Deserves No Sympathy As His Career Fades Away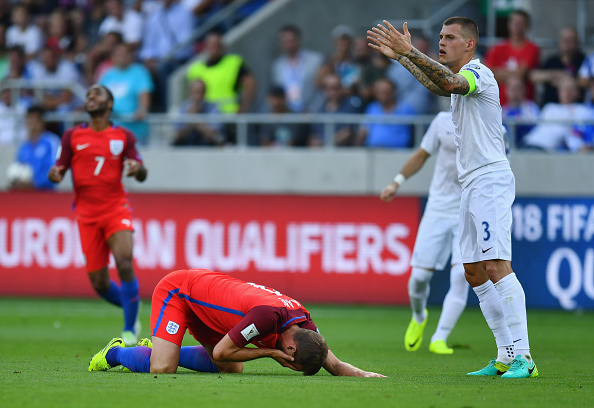 Almost from the moment Jurgen Klopp arrived at Liverpool last October, Martin Skrtel's Liverpool career was over.
It's not that the Slovakia captain was a bad player for the Reds – he wasn't for many years – but it was his attitude which was proving to be a problem as the likes of Dejan Lovren, Mamadou Sakho, Kolo Toure and even Lucas Leiva were picked to start ahead of him at centre-back.
Skrtel would even hit out at Klopp on social media, but what was far more damaging were his displays when he did play, as his trademark rough and ready approach frequently went over the line, with the concession of penalties and needless fouls abound.
When the season ended – as, effectively, did his Liverpool career – he should have given away a penalty and been sent off in Slovakia's opening game of Euro 2016 against Wales, and he continued the angry man act up until his side's last-16 exit against Germany.
He was a liability, basically, just as he was here when he should have been sent off long before his 57th minute dismissal.
Now at Fenerbahce, his is a career which is raging as it dies against the light.
Thankfully the Premier League doesn't have to witness it any more.
---