---
The Ryder Cup is nearly here and we are going crazy with anticipation at Unibet.
But not that crazy. In a nod to the sort of golf world Happy Gilmore would be a fan of, we have picked out some of the craziest golf fans from around the world.
And, by the way, we have a great Ryder Cup money back offer going on; refunding losing bets if Tiger Woods or Rory McIlroy finish top points scorers. Details HERE.
10. I'm Filet Fine!
At the US Open in 2011 there was a spate of bizarre food-related heckles from the crowd, as Tiger Woods found out when fans yelled out "filet mignon" and "medium rare". Weird.
9. Angel Delight
Some Miguel Angel Jimenez fans pay tribute to their hero by dressing like him, here. Not entirely flattering this one.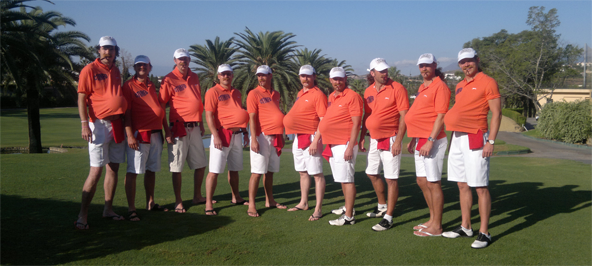 8. You Say Potato...
Another from the 2011 US Open, where one chap can't hide his love of mashed potato as Jim Furyk attempts to tee off.
7. We Have A Weiner
A random act by one fan at the Frys.com Open in 2011 who threw a hot dog at Tiger Woods, but his explanation left everyone even more baffled. "I threw the hot dog toward Tiger Woods because I was inspired by the movie Drive," he said. "As soon as the movie ended, I thought to myself, 'I have to do something courageous and epic. I have to throw a hot dog on the green in front of Tiger'."
6. Rolling Rocks
This Phil Mickelson fan just can't contain his delight as his hero sinks a put at the Northern Trust Open this year. Here he takes to rolling down the bank towards the green in celebration. Phil sort of notices out of the corner of his eye, but decides to ignore it.
5. Show Your Stripes
Bit obvious this one, but here are some Tiger Woods fans dressed, well, as tigers at this year's Open Championship.
4. Hawaii Wanna Do That?
There are golf tournaments in some of the most amazing spots around the world, so you'd be forgiven for thinking this fan was watching in Hawaii or somewhere similar. Nope, it was at The Open this year in Lytham St Annes, Lancashire. He must have been freezing.
3. Bird Brain
During the US Open this year one fan decided to photobomb Webb Simpson's victory interview by wearing a tea cosy and making bird noises. As you do.
2. Going Green
At the Buick Open in 2009 some fans went for the all-in-one green leotards. Quite why, we have no idea, but it looked awesome.
1. Close But Yes A Cigar
Finally, this is one of the most famous golf-related memes on the interwebs, as a fan wearing a ginger wig, a brilliant moustache and enjoying a cigar watches Tiger Woods hit a shot at the 2010 Ryder Cup. 
...it was then made into this very popular meme. Wonder if he'll show up at this year's event?
Check out our great Ryder Cup money back offer HERE.
---